Green Tea Extract Polyphenols Technical Data Sheet

Sense Index

Appearance

Brown yellow powder

Odor & Taste

Characteristic

Physical-chemical Index

Tea Polyphenols (UV)

40% Min

Catechins(HPLC)

25% Min

EGCG(HPLC)

10% Min

Caffeine(HPLC)

3% Min

Particle Size

95% pass 80 mesh

Loss on drying

5% Max

Ash

5% Max

Heavy metals

10ppm Max

Lead

2ppm Max

Arsenic

1ppm Max

Mercury

0.1ppm Max

Cadmium

1ppm Max

Pesticides

EU Reg. 396/2005 amended / ph. Eur

BAP

10ppb Max

PAH4

50ppb Max

Aflatoxins

2ppb Max

Hygienic Index

Total plate count

1000cfu/g Max

Mold & yeast

100cfu/g Max

Enterobacteriae

10cfu/g Max

E.Coli

Absent in 10g

Salmonella

Absent in 25g

Statements: Non-Irradiated, Non-GMO

Function:
1. Improving immunity, anti-cancer, lowering blood fat and preventing cardiovascular diseases.
2. Anti-aging, anti-oxidant and radiation protection widely used in cosmetics, food and pharmaceutical industries.

Packaging: 1kg/aluminium foil bag, 25kg/drum (37*37*50cm).

Shelf Life: 24 months stored in original packaging away from the light, and under the optimal temperature 10~25℃.
Application:
High in Antioxidants: Green tea extract is rich in antioxidants called catechins, which have been shown to increase antioxidant capacity and protect against oxidative stress.
May Promote Heart Health: The catechins in green tea may help reduce blood pressure and improve blood fat levels, which promotes heart health.
Good for the Brain: Green tea extract has been shown to have a positive effect on brain health and memory, and may help protect against brain diseases.
Help With Weight Loss: Green tea extract can aid weight loss by increasing the number of calories your body burns through thermogenesis.
Might Benefit Liver Function: Green tea extract seems to help improve liver function by decreasing inflammation and oxidative stress.
May Reduce the Risk of Cancer: Green tea extract has been shown to help maintain cell health. It may even help prevent some types of cancer, though more research is needed.
Be Good for the Skin: A study showed that applying green tea extract to the skin reduced skin damage caused by sun exposure.
Benefit Exercise Performance and Recovery: Green tea extract increases antioxidant protection against oxidative damage caused by exercise. This translates to better exercise performance and recovery.
Help Lower Blood Sugar: Green tea extract has been shown to decrease the blood sugar level.
Easy to Add to Your Diet:
Green tea extract can be consumed in capsule, liquid or powder form.
Recommended dose: Green tea extract can be consumed in capsule, liquid or powder form. The recommended dose is 250–500 mg taken with food.
Factory show & extraction flow chart: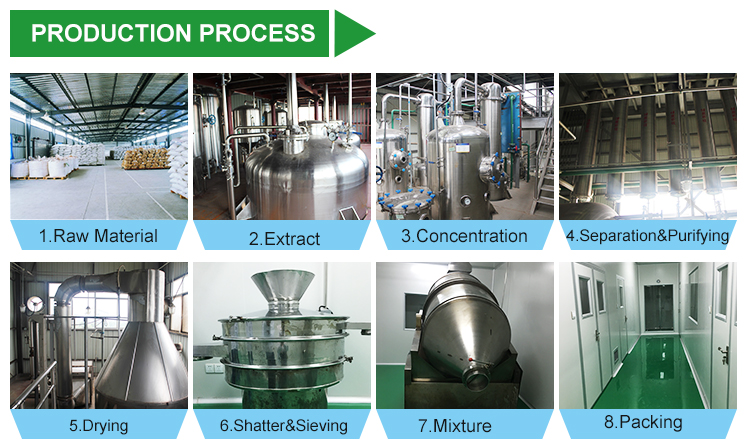 Certificates:
ISO, Kosher

Our Clients